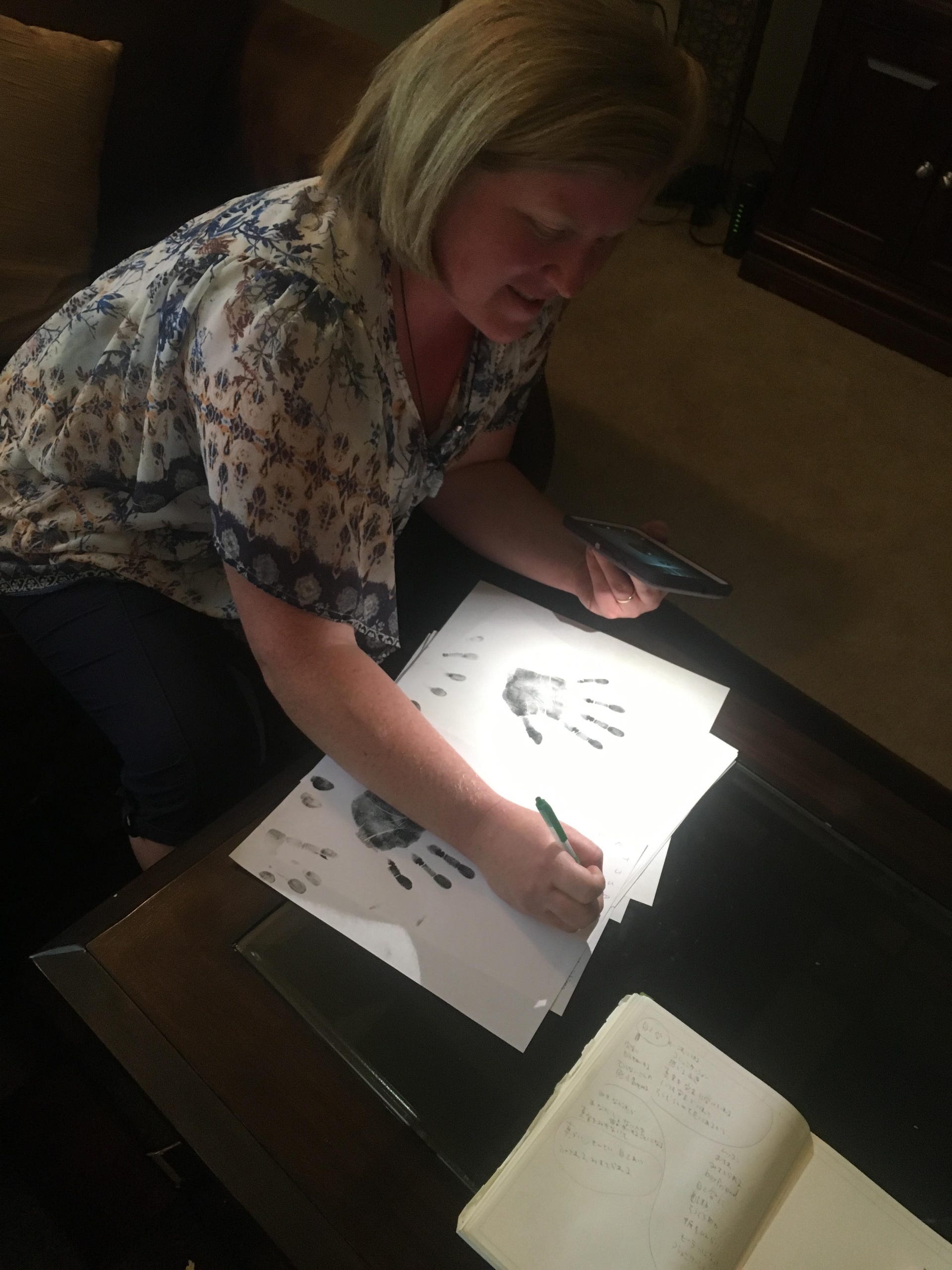 Hand Analysis is the study of our shadow, the false paradigms of beliefs that our Soul is here to navigate through and the pathway to expressing our Soul's Purpose or Divinity.

Our Divine Journey is indelibly printed on our fingers. These fingerprints are present five months prior to birth and are a gorgeous part of each of us. Our fingerprints tell us what our Soul's Map is with the inherent lessons we are here to learn and the energy of our Life Purpose.

Our hands are a separate map of our gifts, our personality, our temperament, how we think, how we are in our relationships and the unique way in which we live life.

Combining these two provides clarity regarding your own soul's expression as read in your hands and allows you to navigate into the life you desire.


"Until you make the unconscious conscious, it will direct your life and you will call it fate."
C.G. Jung
Benefits
Learn what your major blocks are to living the life of your dreams and ways in which to move through them.
Your Life Lesson is the area you often can't see but once highlighted allows you to soar.
Learn what the energy of your Life Purpose is.
Life Purpose is the Divine energy that feels amazing to you, it is what you Soul longs to express and what is only blocked through your false beliefs and illusion created with the lesson portion of your Soul map.
Opportunity to truly know what your Purpose is on a Soul level.
Soul and Personality Psychology, as mapped out in your hands will be utilized to allow your beautiful, unique Purpose to shine.
This information is integral to understanding why you are here and what you need to navigate the path to Purpose.
Receive the map to self-actualize in this life-time.
What a Session Looks Like
First Sessions are 90 minutes. Follow-up sessions are 60 minutes.

If you choose to have a distance session and you live within the United States, I will send you an ink print package via priority mail with a priority envelope included, all shipping paid to return your handprints to me. I am more than happy to have a video conference to assist with obtaining clear handprints and fingerprints. Once I receive your prints, we will set up an appointment via Zoom video conferencing. You will also receive an audio recording of your session to listen to at your convenience.


During an in-person session I obtain hand prints and fingerprints utilizing either oil based or water based washable ink. I then assess the information provided and depending on the session give the appropriate information. The session is meant to be a dialogue in which your Soul Map is explored, while you make connections in your own life, facilitating radical transformation from within.

You will also receive an audio recording of your session to listen to at your convenience




Sara Gasch
Certified Master ThetaHealing® Practitioner & Instructor.
Certified Advanced Hand Analyst
Certified Master Reiki Practitioner

As an Advanced Hand Analyst, I received my certifications through the acclaimed International Institute of Hand Analysis. My instructor, Roberta Coker has over 20 years practicing as a Master Hand Analyst. I have learned how to analyze an individual's handprints for both Personality and Soul Psychology.
"ThetaHealing® and ThetaHealer® are registered trademarks of THInK at www.thetahealing.com"

The Content is not intended to be a substitute for professional medical advice, diagnosis, or treatment. Always seek the advice of your physician or other qualified health provider with any questions you may have regarding a medical condition.
All modalities listed on this website are meant to be used in conjunction with professional medical treatment.